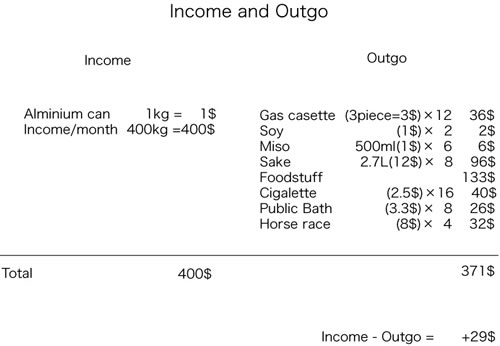 A alchemist of Tokyo

How can they get money for their life? That is picking up the trash aiminium can on the street. They get $450 over from their work. Their work is pucking up the trash of the Tokyo.

Now there is many people who pick up the cans. But Mr.Suzuki & Mi-chan can get enough money constantly. Why? There is a trick and a thorough plan.
Mr.Suzuki has set up contracts with people and company. He have important client: five hotels, kindness good wives, apartment cleener... Other person can't find. So he can get it constantly. At first he checked the time when the person put off the cans, next he went there just a time and talked,
" Please give me the can everyweek." He talks honestly. So almost person understand him. He never looks desperately for getting the cans. He always works carmly. He has a brilliant brain.
And The rate of the aiminium is running up now. Now price: 1 kiro-gram - 126 yen. They get 100 kiro-gram for a week, They can get $450 over for a month. They change it for money at the scrap shop. The shop goes to Mr.Suzuki's house and change money.
They waste all money just for FOOD! Never stock money. Food is important for them.